Managing a website can be a time-consuming and tedious process which is nonetheless very important. When managing multiple websites, it can sometimes feel that's all you do and, let's face it, it's not usually particularly enjoyable. There are tools, however, which can make your life easier by making website management a much more efficient process. One in particular, called ManageWP, allows you to manage multiple WordPress websites, all from the same location. It's a very powerful tool and below are some of its features:
Maintenance mode
ManageWP provides a couple of nice-looking templates to put up instead of the website when it's down for maintenance. These can be customized and activating this mode just takes one click. This feature would also remove the need for a separate plugin just for maintenance mode.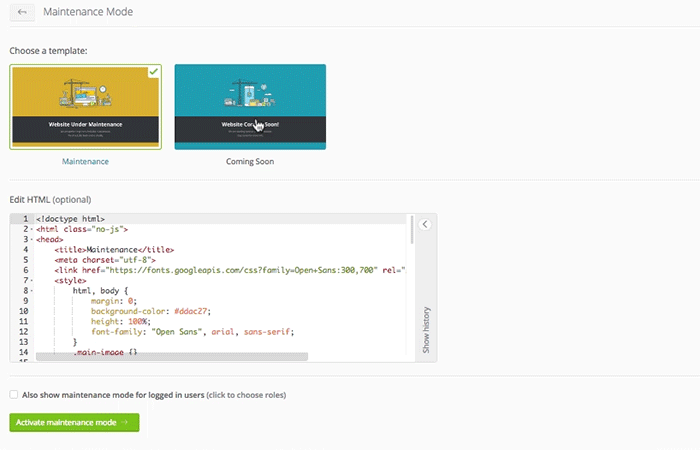 Bulk code snippets
Running code snippets can be particularly useful in fine-tuning plugin settings, removing widgets from your website and clearing cache, among other things. One particularly convenient feature of ManageWP is that it gives you the ability to run multiple snippets on multiple websites at once, which can save you a lot of time.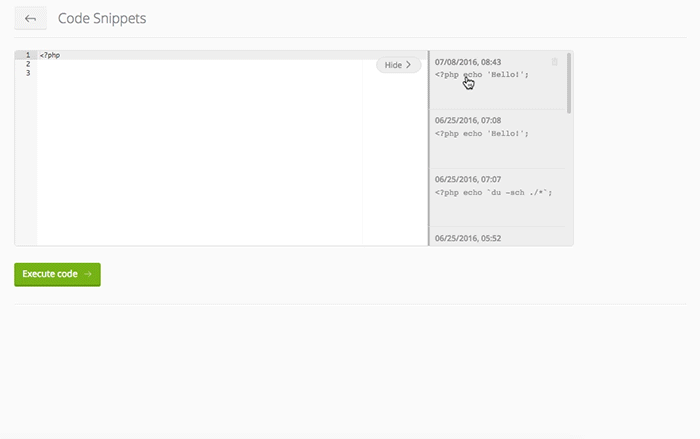 Website analytics
You have the ability to view Google and WordPress analytics for the sites you choose to add to the tool. These tools are very useful in monitoring traffic to your website and allow you to see things such as the number of views to each of your pages, broken down to the day if you wish. They also allow you to learn more about your audience since they also tell you what countries your viewers reside in.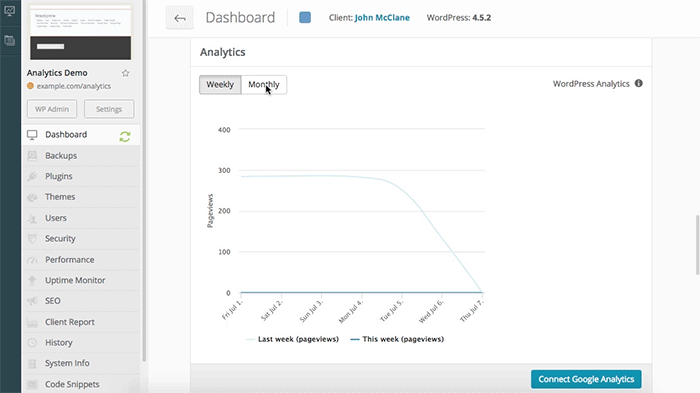 SEO ranking
You can keep track of your SEO ranking and see how this is changing, allowing you to make informed changes if need be. This helps with monitoring your keywords. This feature allows you to also see how your competitors are doing which is terribly convenient as it greatly reduces the time it would take you to check on your competitors one by one.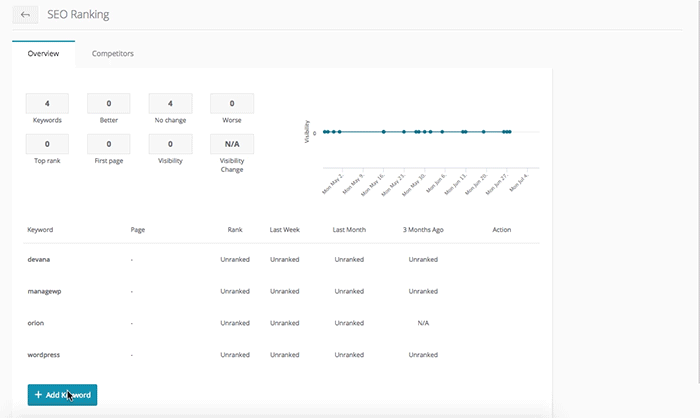 [fusion_builder_container hundred_percent="yes" overflow="visible"][fusion_builder_row][fusion_builder_column type="1_1″ background_position="left top" background_color="" border_size="" border_color="" border_style="solid" spacing="yes" background_image="" background_repeat="no-repeat" padding="" margin_top="0px" margin_bottom="0px" class="" id="" animation_type="" animation_speed="0.3″ animation_direction="left" hide_on_mobile="no" center_content="no" min_height="none"][fusion_alert type="notice" accent_color="" background_color="" border_size="1px" icon="fa-check" box_shadow="yes" animation_type="0″ animation_direction="down" animation_speed="0.1″ animation_offset="" class="" id=""]
Recommended Reading:
How to Optimize your Post before hitting publish
[/fusion_alert]
Ease of collaboration
Working with others is made simpler as the tool eliminates the need for sending your information to collaborators who require access to the backend. Instead, you can simply invite them by email and they can access the tool's dashboard. You have a lot of control over what they have access to as well since you can choose which websites they have access to and what they can edit.
Client reports
Reports can be very useful, whether you're managing your own websites or someone else's. They're a good way for seeing how the website is doing, and also allows clients to get a fuller appreciation for your work. ManageWP lets you populate reports with one, simple, click.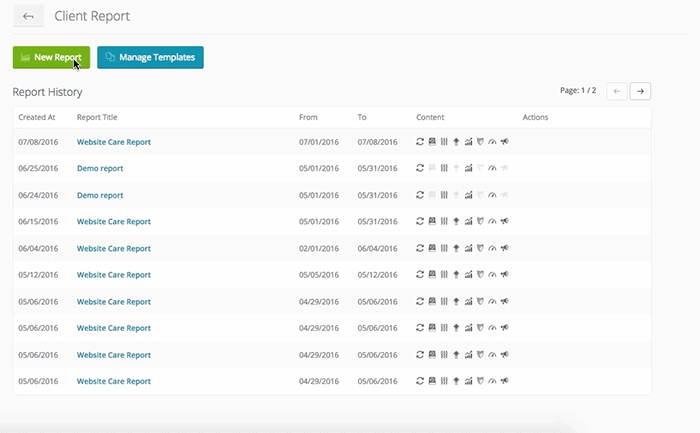 Uptime monitor
People nowadays lead busy lives and the truth is, few have the time to spare to keep an eye on their websites 24/7. Luckily, the tool has an uptime monitor feature so you'll be the first to know should any of your websites go down. Notification methods include via email and SMS.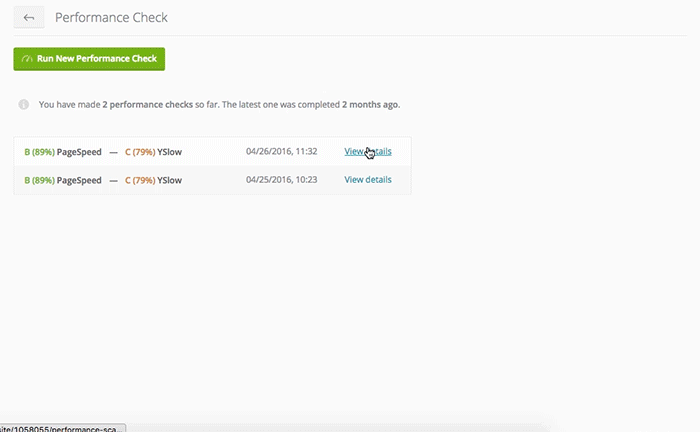 Benchmark
No one likes a slow website and ManageWP allows you to check your websites' performance. It's good to get performance feedback in case you need to tweak how your website handles caching, or minify your CSS and JavaScript.
Security check
The security check feature allows you to verify that your websites are free from malware. If having your website infected by malware weren't bad enough by itself, its presence could result in Google putting you on their blacklist. It could take months to resolve the issue if your website gets on Google's bad side, and that is a very long time especially for a business website.
Easy website cloning and migration
The cloning feature lets you make a copy of your website easily, without having to touch the code. This is particularly useful if migrating your site to a new host. You can also use this feature to do edits to your website without having to go live by editing a cloned copy until you're ready to publish.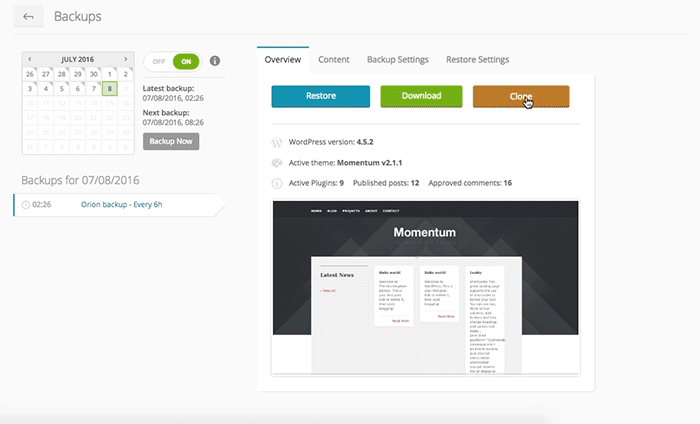 Cloud backups
You can schedule website backups on their servers, or at a location of your choice such as Amazon, Dropbox or Google Drive.  You will get an email with the link to download the backup. You can also choose to manually trigger a backup of your site; always a good idea prior to making any updates.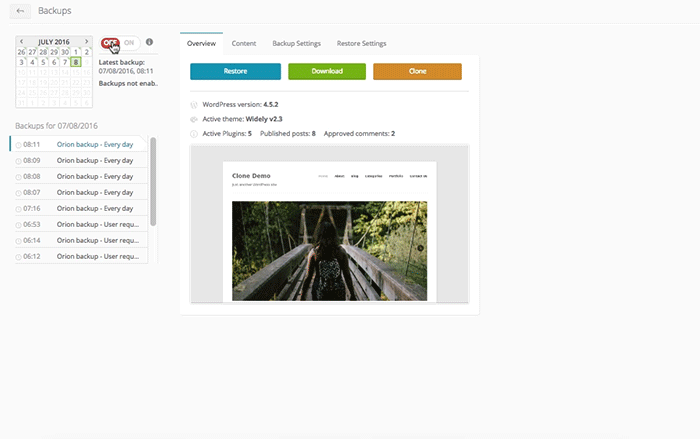 Easy theme and plugin management
You can choose to add, activate, deactivate or delete themes and plugins to your websites using the tool. This can be especially convenient if deleting themes since it avoids you having to mess with the FTP. ManageWP also allows you to update the themes and plugins on your websites quickly and easily with one click and even gives you the option to ignore or downgrade them if you wish.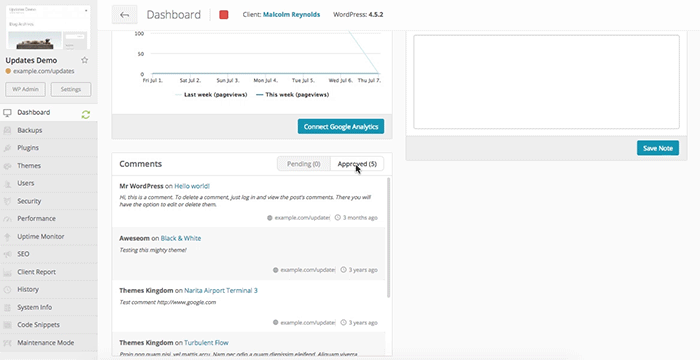 Dashboard
This is the control center, the place from where you can access all of the above. To make it even easier, you don't even need to log in each time when going into the WordPress backend. Your ManageWP tool will log you in automatically.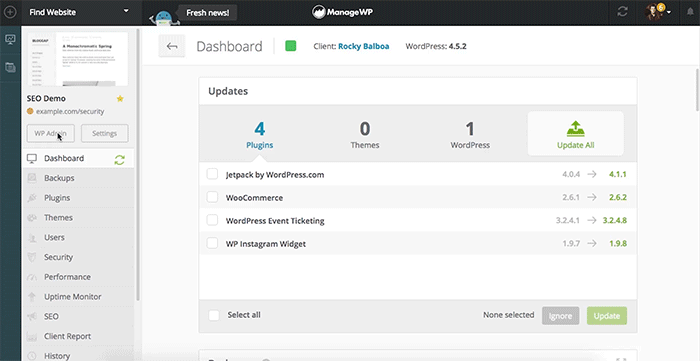 [/fusion_builder_column][/fusion_builder_row][/fusion_builder_container]
Aurora
https://technicalcreativity.org/wp-content/uploads/2019/03/Tech-Creativ-Logo-675-153.png-300x68.png
Aurora
2016-09-11 12:15:03
2016-09-11 12:15:03
How do you manage your Wordpress site?